Important Safety Notice: Kensington
®

AbsolutePower

™

Ultrabook Power Adapter Exchange Program
Kensington has voluntarily initiated an exchange program for specific production lots of the Kensington AbsolutePower Ultrabook Power Adapter (wall charger for computers), Product number K38105EU, manufactured between December 2012 and June 2013, and marketed in various countries around the world.
While no product failures or injury has been reported to Kensington by consumers in any region, Kensington has determined that in very rare situations, some of these power adapters may fail, possibly leading to damage of connected equipment and an increased risk of burns to the consumer's hands, arms or legs, or electric shock.
Customer safety is always Kensington's top priority, and we have voluntarily initiated a free replacement program for users who have the affected power adapters. This is being done in cooperation with various government regulatory agencies.
Note: Other Laptop Power Adapters sold by Kensington are not affected by this program.
Identifying your Power Adapter
Compare your adapter with the images below. An affected Kensington® AbsolutePower™ Ultrabook Power Adapter has a Product Number of K38105 and has a date code between X1248XXXXXX and X1325XXXXXX. If the date code is less than 1248 or is greater than 1325, your adapter is not affected.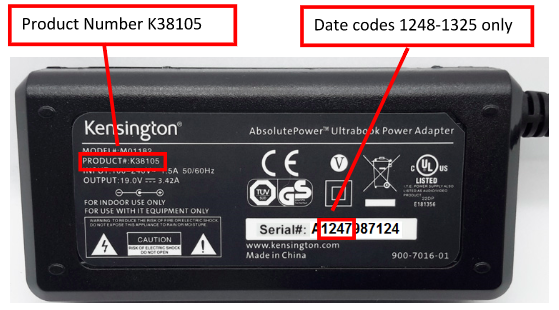 Online Verification tool to determine if your adapter is affected by this program:
<!-
• Product Name: Turn your power adapter over so that you can see the label as shown in the picture above.
• Ensure that product label reads "Kensington

®

AbsolutePower

™

Ultrabook Power Adapter at the top of the label.
*

Model Number not recognized.

Invalid Serial Number.
Your product is not affected by this program
Exchange Process
If you adapter is affected, exchange your adapter in one of the following ways:
1.Fill out the online product exchange form that will be displayed above if your product is affected.
2.Contact Kensington Product Support –Mouse over to view a list of Phone Numbers
3.Return your adapter to your place of purchase.